Skinny Dipping Riesling
Take a dip!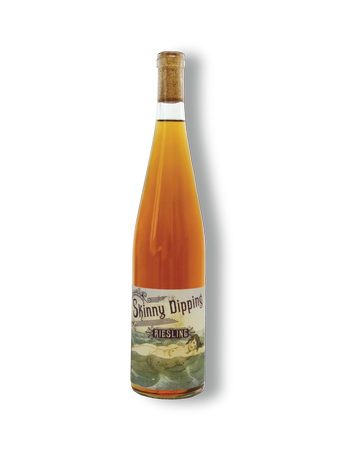 Tasting Notes
This wine is an adventure for your mouth. Take a dip and have some fun, you're welcome! Get ready for concentrated aromas of the orangey realm - orange creamsicle, orange blossom, and Middle Eastern burnt orange. It's silky smooth and welcoming like a secret swimming hole in summer, with a backbone of black tea tannins and mouthwatering lemony acidity. We love the bigger structure and elongated finish the skin extraction contributed without making this a heavy wine.
Winemaking Notes
Our Skinny Dipping wines are a series of skin fermented white wines. The skins of white wine grapes contain aromatic compounds, in addition to tannins, which add really interesting extra layers of aroma and character when fermented in the style more typical of red wines.
This Riesling fermented for 30 days on the skins, imparting character we never even knew Riesling was capable of until now. After 30 days it was pressed to neutral barrel to mellow out for a few months before bottling.
We recommend serving this wine chilled as you would a white wine.
100% Riesling.
Food Pairing
Curries with coconut milk. Rosemary-skewered pineapple and mozzarella. Samosas with mango chutney. Chicken & waffles with grilled peach. Play around with different pairings and let us know what you find!
Aging
Aged in neutral barrels for a few months before bottling.
Ratings

92 Points - Wine Enthusiast
Product Reviews